Weekend Box Office Top 10 (Dec 17-19): (Title / Weekend Gross / Percent Change from Last Week / Weekend # / Distributor), Monday (3-Day) Finals:
Scream (aka Scream 5) / $30.04 million / (N/A) / Weekend 1 / Paramount
Spider-Man: No Way Home / $20.1 million / -38% / Weekend 5 / Sony (Columbia)
Sing 2 / $7.95 million / -31% / Weekend 4 / Universal
The 355 / $2.26 million / -51% / Weekend 2 / Universal
The King's Man / $2.233 million / -31% / Weekend 4 / Disney (20th Century Studios)
Belle / $1.645 million / (N/A) / Weekend 1 / GKIDS
American Underdog: The Kurt Warner Story / $1.594 million / -32% / Weekend 4 / Lionsgate
West Side Story / $942K / -31% / Weekend 6 / Disney (20th Century Studios)
Licorice Pizza / $882K / -10% / Weekend 8 / United Artists (MGM)
The Matrix Resurrections / $815K / -56% / Weekend 4 / Warner Bros. (w/ HBO Max)
Notable Outsiders:
13. Venom 2 / $380K / +871.8% / Weekend 16 / Sony (Columbia) (1,435 theaters, $265 per theater)
17. Drive My Car / $78K / +85% / Weekend 8 / Janus Films (65 theaters, $1,201 per theater)
Of course, after I finally managed to get health back and the rest of my life in order (relatively speaking), the box office grinds to a complete halt. Well, to be fair, it is January, the official dump months of movie studios where all the movies (typically, but not exclusively, low-budget horror) that they have the least faith in are placed and forced to fight for scraps amongst mega competition from Christmas holdover blockbusters. Further complicating this situation is the fact that the explosion of Omicron over Christmas also 1) made a bunch of studios skittish and caused them to alter release dates and distribution methods for several movies, and 2) resulted in everyone getting very picky with when they were venturing out to theaters as well as what movies they were seeing; or, rather, what 'movie' they were seeing. Yes, it's no secret that Spider-Man: No Way Home ended up dominating the Christmas release window and surpassing essentially every single expectation in the process. I'll get into it later (though I won't linger because at this point it's almost old news) but No Way Home has become the first billion-dollar grossing movie since the start of the pandemic and is likely on its way to even greater heights. As a result, for the past few weeks, the film has kind of been sucking the air out of the box office leaving every other movie struggle; that is, until this weekend.
Yes, it took 5 weekends for us to get a real, honest competitor for the #1 spot in the box office top ten, and surprisingly, it ended up coming from arguably the weakest studio of the bunch, Paramount, in the form of a new Scream sequel. Scream (technically Scream 5, but I won't harp on it) entered into development back in November 2019 with the coalescence of several events, primarily the breakdown of the Weinstein Company (who owned the rights to the franchise) in the wake of Harvey Weinstein's sexual assault allegations and the eventual reconstitution of the Weinstein Company's assets into the newest iteration of Spyglass Media Group.
The company looked to start gaining capital quickly and turned to Scream as a potential reboot that would make good money. Soon, Kevin Williamson (the creator of the franchise) was on board as an executive producer while Ready or Not directors, Matt Bettinelli-Olpin and Tyler Gillett, boarded the project as it was officially greenlit. We know how the rest of this kind of production tends to go, a major studio, in this case, Paramount, sees the potential to make good money with a name franchise and picks up the film, there is speculation as to whether or not the original cast will return (and they do), a fresh-faced young cast is put in place just in case the film is a hit and they need to continue the franchise, and then the studio does its best to release the film well. Obviously, COVID impacted the production and release schedule for the film, but fast-forward to today and we have the film out in theaters.
Now, as cliched and tired as I just made this latest Scream movie sound, it's actually been the subject of a surprising level of interest (if not outright hype) over the past few weeks. Not only is this essential the first truly big release since No Way Home (and the whole crop of 2021 Christmas fare for that matter) but many were also speculating heavily on what the quality of the film would be. Personally, while I didn't peg it as a "hit", I did feel that the film would at least be generally well-received, thanks in large part to the presence of Bettinelli-Olpin and Gillett behind the camera. While I didn't adore Ready or Not the way many critics did when it was released back in 2019 (I enjoyed it overall, particularly for Adam Brody and Henry Czerny's pitch black, hilarious performances, but I did just find it to be a fun horror movie rather than a stellarly subversive picture), it still proved to be a very strong calling card for the duo, showcasing a clear love and respect for the horror genre and a willingness to play around with convention. That display of crafty filmmaking is why I felt it made perfect sense when they were announced to be helming Scream.
With regard to the box office prospects, predictions got much trickier. Inevitably, the film would end up successful given that horror movies are cheap and always have an audience; but, just how high was it going to climb. Its positioning as a January feature did give many pause as it seemed to suggest that the quality of the film was lacking, and the first trailer really didn't do all that much to sell it. That said, Paramount did do a good job setting it up. While No Way Home is still rampaging, the studio did give Scream a solid amount of breathing room by setting it up five weeks from No Way Home's release, and (technically) setting it in January essentially removed most of the competition (though No Way Home also helped to take care of that). The real indication that Scream had the goods, however, came when early tracking for the film's opening began to pop up online, pegging the movie with an astronomically high $40-50 million gross this weekend. Everyone knew that said gross was way too high, but it did generate interest, and as the opening approached and estimates became more reasonable, Scream still maintained a surprisingly strong $25-30 million projection.
Then, of course, came the reviews, which I do feel sealed the deal (wow, that's quite a sentence). Early social media reactions were shockingly positive and they were only confirmed by the actual reviews which had Scream popping up on Rotten Tomatoes this past Wednesday with a 90% fresh rating out of the gate. It's since settled in the 70s, but that is still pretty high for a film like this so audiences who weren't totally sold by that point had their curiosities piqued. A solid Thursday preview gross of $3.5 million and a stellar $13.35 million Friday gross later, everyone knew that we had a hit on our hands. Sure enough, Scream had two major achievements this past weekend, posting a fantastic $30.6 million opening weekend gross (or $31.5 million depending on which outlet you're reading; still great!), and managed to end Spider-Man's reign by taking the top spot at the box office. Not too shabby.
So, the only question that remains is, how? While the original 1996 Scream, and its 1997 sequel, are beloved classics for their clever writing, taut direction, and sly meta-commentary on the horror genre (with some even saying that Scream 2 is actually even better than the original), the third film found the franchise in disarray, with many feeling that by that point the series had fallen prey to the very same tropes it used to make fun of. While Scream 3 was still successful at the box office, it was so disliked by fans of the franchise that it killed off (haha) much of the interest in seeing another installment. A fourth film was eventually made 11 years later that was more warmly received than the previous outing, but Scream 4 was a box office flop during its original theatrical run (grossing only $95.9 million worldwide, a huge stepdown from the previous film's $161.8 million gross, on a $40 million budget) which put the franchise on ice up until two years ago when Spyglass was looking for a way out of the shadow of the Weinstein scandal. Given the state of the franchise, as it was left, ending on a flop and looking like the premise had been played out, it is unsurprising that many people would be skeptical as to how a fifth film would be able to succeed in a much more competitive market than there was in 2011.
Looking at the film's production, the reviews, marketing, and the performance of the film overall, it becomes abundantly clear that Scream's success is very much rooted in a stripped-down, back to basics approach. As mentioned above, Matt Bettinelli-Gilpin and Tyler Gillet are clearly horror fans, and by focusing on crafting strong suspense and scares as well as paying tribute to Wes Craven's style of filmmaking, they managed to give the franchise the feeling of having truly returned to form. It definitely helps that the new Scream has a ton of new material to comment on as we live in a new, streaming-focused age full of "years later" horror sequels, prequels, and reboots, but the film smartly didn't fall back on pop culture references as its sole reason for existence. Instead, the movie focuses on being a genuine sequel that builds upon the narrative of the series you already knew and loved (complete with some strongly executed twists that organically build upon the earlier films). The movie also did the leg work to bring back all the main trio of Neve Campbell, Courtney Cox, and David Arquette to further emphasize its respect for the originals. Many reboots these days tend to only bring back a few members of the original cast, only to then sideline them in favor of the newer, younger cast, and while Scream does place the focus on its new characters, it doesn't leave Campbell, Cox, and Arquette behind. All in all, Scream really just solid itself on being a continuation of a fondly remembered franchise containing all the fun, scares, and kills that would entail, and audiences responded accordingly.
Props should be given to Paramount, though, as they handled the release quite well. Earlier last year, one might've expected Paramount to dump Scream when the going started to look rough. After all, the studio was notorious throughout the pandemic for selling off nearly their entire theatrical slate, including The Lovebirds, Coming 2 America, Without Remorse, and The Tomorrow War to various streaming services. With Omicron raging and No Way Home eating up all the money in sight, it would've been easy for Paramount simply to place Scream on Paramount+ and call it a day. Clearly, however, Paramount knew that they had a good product on their hands and were willing to commit to theatrical exclusivity to get the best opening they could. Admittedly, Scream being a cheaper, name-brand horror film with a built-in audience that was co-financed by Spyglass (thus minimizing exposure on the film's reported $24 million budget) may have also assuaged the studio, but credit should be given where credit is due, and by sticking to their guns, Paramount has started its year off right with the first big opening weekend of the year. Beating out Spider-Man is also a nice bonus. The film is looking to gross $36 million through the end of the 4-Day MLK weekend.
Outside of Scream, there was only one other new release, that being Mamoru Hosoda's Belle. The anime feature about a socially awkward girl who retreats to an online RPG game for comfort and transforms herself into 'Belle', a beautiful online avatar that she uses to achieve international fame as a singer, saw a surprisingly wide release through specialty distributor GKIDS. The arthouse and foreign animation distributor does not typically do opening weekend releases in over 1,000 theaters but, with Belle, they clearly saw an opportunity to take advantage of a relatively empty release window and pushed it into over 1,300, which is commendable. Hilariously, however, the film ended up having almost the exact same $1.6 million gross another hyped-up anime film from a while back, 2016's Your Name from Makoto Shinkai, which managed to post that gross despite opening in only 229 theaters. To a degree, this speaks to the changing landscape of films at the box office, both affirming the strong appeal of anime in America as Belle (which has strong reviews and is being pushed for the Best Animated Feature Oscar) was able to attract enough of an audience to break into the top 10 this weekend, while also confirming anime as a niche market when compared to Your Name's opening weekend gross. Part of Belle's ability to crack 6th place also comes from a very weak market outside of the top 5 films this weekend, but I will be curious if the weakness of the market gives Belle some extra staying power as anime films tend to drop off quite quickly. It would be nice to see that kind of diversity of product at the box office, so I hope I can check it out soon. It should top $2 million by the end of today.
As for the rest of the top 10, it's all holdovers, with current box office heavyweight champion, Spider-Man: No Way Home having been demoted to second place by Scream's genuinely impressive $30+ million opening. Save your tears, though, as No Way Home is just fine, posting $20.8 million in second place in the 3-Day frame, (and a likely $26 million in the 4-Day) in taking its total domestic gross to $698 million and its worldwide gross to $1.625 billion! With a B! As of now, No Way Home ranks as the 6th highest-grossing film of all time worldwide, right between Furious 7 and the "live-action" Lion King remake from 2019. Domestically, the film will likely be passing $700 million at some point this week and in doing so will overtake Black Panther to become the 4th highest-grossing movie of all time under The Force Awakens, Avengers: Endgame, and Avatar. I was highly skeptical that the film could possibly make it to $2 billion worldwide but honestly, at this rate, it's looking more and more like a reality.
Third place went to Sing 2, which has proved to be a pretty solid performer since its debut during Christmas. While there is no way that the film will be able to reach the towering heights of the original Sing from 2016 (which legged out so well that it displaced My Big Fat Greek Wedding as the highest-grossing movie of all time to never reach the number one spot at the box office with a worldwide gross of $631 million), that was never necessarily in the cards for it nor was it going to be needed. As much as people like to rat on Illumination Entertainment for being unambitious, one cannot deny their ability to appeal to young children and their shrewd business sense. Whatever your opinion of their film's stories, the actual animation they produce is pretty unimpeachable, with fun character designs, great world-building, and fantastical colors and lighting effects all around, so they're bound to be able to draw in a solid audience no matter what. Accordingly, Illumination tends to be able to keep the budgets of their films relatively low (Sing 2, for example, costs $85 million whereas Disney's Encanto has a budget somewhere between $120-150 million), so the break-even and profitability thresholds are lower and more attainable. Sing 2 took in $8.2 million this weekend in the 3-Day frame (a fantastic hold of 31%) and an estimated $11 million in the 4-Day, bringing its domestic total to $119.3 million and its worldwide cume to $214 million. Currently, the movie is tracking just slightly behind that of another Illumination sequel, The Secret Life of Pets 2. Given that Secret Life 2 ended up with about $446 million worldwide, Sing 2 is likely on track to end its run with at least around $350 million when all is said and done; a large drop off from the original, but given its responsible budget, it will still be highly profitable. Fun fact, Sing 2 managed such a stronghold despite the fact that Universal made it available to rent on PVOD, a testament to the film's appeal and box office strength which also lead it to overtake Free Guy this weekend as the 10th highest domestic grosser of 2021, a great performance for a five-years later sequel that's only been in theaters for under a month.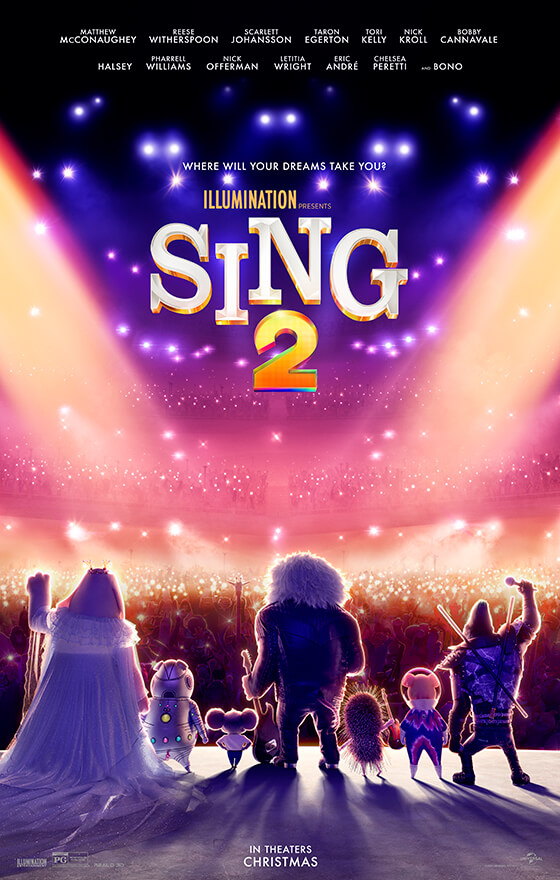 In fourth place, there was something of a surprise as last week's DOA spy actioner, The 355, actually managed a surprisingly strong hold of 51%. Personally, given the complete lack of interest in this film displayed last weekend, and its downright poor reviews (surprisingly so from what I read as it seems that the worst thing this movie can be accused of is being thoroughly generic) I was expecting a drop in the 60s. Now, to be fair, a 51% hold will not help this movie become solvent in theaters as it opened to a measly $4.6 million and it was only able to take in $2.3 million in the 3-Day frame and $2.8 million in the 4-Day frame this past weekend. Its domestic total stands at $8.4 million, way below the $20 million that Universal paid to acquire the distribution rights a few years back. That said, the stronger than expected hold give me pause, and reminds me a bit of the run of Resident Evil: Welcome to Raccoon City last month. That film also had a terrible opening weekend but also held way better than I could have ever expected it to. I postulated that the film would go on to do very well on a streaming service, and I am inclined to think that The 355 will likely share a similar fate. Many reviews have liked it to direct-to-video/streaming film, so it will be right at home on a streaming service and might find a second life in the ancillary market. Lord knows it will get multiple chances to do as Universal inked a slew of post-theatrical streaming deals for 2022 and beyond which will see its slate head to Peacock for 2 months, then to Amazon Prime for 8 months, and then back to Peacock for another 2 before becoming available to watch on Starz. In the interest of seeing how that pans out for Universal, The 355 is exactly the kind of title worth keeping an eye on.
Speaking of strong holds, the long-delayed (due to both the Disney-Fox merger and the pandemic) The King's Man also seems to also have found an audience with another fantastically strong hold of 28% in its third weekend. Unfortunately, that audience is clearly smaller than The King's Man's producers would like as it only grossed $2.3 million in the 3-Day and $2.8 million in the 4-Day, placing it in 5th place for a running domestic total of $28.7 million ($92.5 million worldwide). This movie has no chance of being profitable given the likely inflated budget due to carrying costs and interest associated with the film's longer than 2 year(!) delayed release. Still, the fact that it is holding as well as it is is genuinely impressive in the face of that incredible delay (the movie literally had seven teaser trailers, it was insane!) and its mixed review, and suggest to me that despite this unfortunate outcome, the Kingsman brand still has a solid fanbase. Director Matthew Vaugh is reportedly still prepping a third, proper Kingsman film (last I saw, the title of the film is reportedly The Blue Blood) and the perseverance of The King's Man suggests to me that said threequel is still a worthwhile pursuit.
As for the rest of the top ten, it's mostly just clunkers. The last major bright spot is that of American Underdog: The Kurt Warner Story in seventh place. The faith-themed sports biopic from I Can Only Imagine directors the Erwin Brothers and their Lionsgate-based production company, The Kingdom Story Company, is in a similar situation as The King's Man where its weekend grosses have been minimal, but its holds have been strong. Dropping just 31% this weekend, the well-reviewed Zachary Levi starrer grossed $1.6 million ($2.26 million in the 4-Day) for a total domestic haul of $21 million (a strong x3.5 multiplier from its $5.8 million debut which suggests good word-of-mouth). I can't necessarily see the film making it past $25 million total domestic, but given the lower-budget nature of the Erwin Brother's films (I Can Only Imagine only cost about $7 million and I can't imagine that this movie costs more than $15 million given its cast), that won't necessarily break the bank for Lionsgate, and I fully expect the film to have a good run in the ancillary market. Sadly, the same cannot be said of the next two entries.
Eighth place was home to West Side Story, which, to its credit, is garnering a lot of awards gold (Ariana DeBose has actually just become the Oscar frontrunner for Best Supporting Actress with her recent Golden Globe win), but none of that is translating into ticket sales. West Side Story had a great hold of 31%, but that resulted in a terrible gross of $948k (great holds with bad grosses seems to be a running theme this week). The 4-Day gross was a not-much-better $1.15 million. I've already gone over why West Side Story is not performing well so I won't harp on it (you can read why here), but with $33.7 million domestic and $57.4 million worldwide on a $100 million budget, the film is thoroughly in the red. In ninth place, we have Licorice Pizza with $882K in the 3-Day frame and $1.086 million, in the 4-Day frame. Clearly, MGM should've listened to distribution pundits and started going wider faster so that it would've been able to carve out a niche amongst audiences, but as of now, it is flying under the radar. Capping off the top ten is another film in the red, The Matrix Resurrections, which can't even boast a strong hold to save face. The cynically cerebral reboot dropped 56% in its fourth weekend of release, grossing a meager $815K in tenth place ($1 million in the 4-Day) for a total domestic gross of $35.8 million and a worldwide gross of $140 million. I will admit to being to being surprised and kind of impressed by the film's $104.2 million international haul, which is more than I would've expected for the nearly 20 years later sequel, but, on a nearly $200 million budget, $140 million simple is not gonna cut it. It's a depressing coda to Warner's thoroughly deflated 2021 at the box office.
As for the rest of the box office, the specialty market was surprisingly quiet, though this may be the result of the awards season really kicking into high gear. With the window of Oscar eligibility officially closed, January tends to be a time when most awards films go wide to take advantage of their nominations. However, due to many awards ceremonies having been pushed back by Omicron, plus most of this past year's awards hopefuls having already gone into wide release, we're witnessing a notable vacuum show up in the specialty market that won't likely begin to subside until Sundance rolls around. The only arthouse feature of note seems to be Japan's Drive My Car, which has quickly established itself as the frontrunner for Best International Feature this year. The film, directed by Ryusuke Hamaguchi and following the story of a Japanese stage director who mounts a production of Uncle Vanya while grappling with the death of his wife, had quietly amassed major critical support since its November release in just two theaters and slowly been widening its release as it has garnered multiple critics awards (including the Golden Globe for Best Foreign Film). This weekend, it expanded into 65 theaters and grossed $78K for a total of $508K in the US. Expect the film to continue a slow rollout through the next few months as the Oscars grow nearer in the hopes of creating a grassroots swell of support amongst audiences.
Finally, it's worth noting that Venom 2, despite having ended its theatrical run last month, popped back into 1,435 theaters and grossed $380K. It's an odd move on Sony's part as the film has pretty much tapped out its theatrical audience, but it also speaks to just how empty this particularly January is that theaters were willing to play Venom 2 to pull in some more audiences. Hopefully, the success of Scream might be just the shot in the arm the box office needs to get the 2022 box office rolling. I'm excited to see where we go from here.