After a lackluster Super Bowl Weekend having nullified the Valentine's Day Box office, this weekend is looking to be one of the most healthy looking in a while!
Happy President's Day Weekend everyone! It feels a bit odd to say that as many people don't really care about this holiday outside of the fact that many are getting a four-day weekend. Still, it's becoming a pretty notable weekend overall as, to my immense shock, it looks to be one of the stronger weekends at the box office we've seen in a while. Coming off a Super Bowl weekend that nullified Valentine's Day, we're actually seeing two new films of varying scale both overperform. That's really exciting and I'm delighted to see just how everything is going to shake out by the end of Monday.
As for the new releases this weekend, we're getting three, Uncharted with Tom Holland, Dog with Channing Tatum, and The Cursed with….well….not really anyone mostly people are excited about. I'll be totally honest, I personally have no stake in any of these movies. I've never played a single Uncharted game, I'm not the biggest Channing Tatum fan (though I am excited to see him in The Lost City) and I only started seeing teasers for The Cursed this week. What does excite me about this weekend though is something specific, the likelihood that we may have our first weekend in forever where all of the top ten grossers take in over $1 million. That might sound meager by any standard outside of my own, but given the current theatrical environment and the still-raging effects of the pandemic, I'd consider it a big win, plus, not only Presidents Day in effect to boost the grosses, but also Tom Holland, Channing Tatum, and an ever-reliable horror film here to pique the audience's interest, I think there is a very good chance of getting that outcome.
With regard to Uncharted, as I said above, I really don't have all that much interest. It's not that I have anything against Tom Holland, or Mark Wahlberg, or video game movies in general, I simply have no connection to this brand. Also, frankly, this film has been in the works for so long that it's genuinely hard to believe that Uncharted is actually getting released. Funnily enough, the film adaptation of this best-selling video game franchise has been in development for so long that Wahlberg, who was originally attached to play protagonist Nathan Drake in 2010, aged out of the role and was moved to become a supporting player in this very film. Yes, Uncharted has been in development for that long, so long that at least eight different writers have taken a crack at the script and six different directors have been attached to helm the movie. Normally, under these circumstances, you'd think that a studio would drop a project, especially given all the development costs that have likely piled up in the past decade, but Sony is clearly looking for franchises to build out their film slate. They are coming off a fantastic year at the box office with 2021 (all things considered) and want to keep that momentum going. Speaking of momentum, I suspect there's also another reason that they would not let go of this project; one having to do with a very specific star.
I would argue, perhaps even more significant than the need for more franchises in an age where only tentpole films can consistently thrive at the box office, that Sony pushed hard for Uncharted to make it to screens largely to secure the acting services of one Tom Holland. I know that might sound a bit ridiculous on the face of it, but the situation does speak for itself. Prior to the release of Spider-Man: Homecoming, as well as post-Sony Hack, the studio found itself down in the dumps. Lacking in franchises, having los the latest iteration of the Spider-Man franchise (Andrew Garfield's era) due to bad box office and squandering their plans for a worldbuilding Sinister Six film, as well as seeing the massive flop of the all-female Ghostbusters reboot, and having little to show for themselves outside of Screen Gems' erotic thriller of the week, the introduction of Tom Holland as Spider-Man in Captain America: Civil War and his subsequent turn in Homecoming has brought the studio into something of a new era. Following the success of Homecoming, Sony was able to reboot the Jumanji franchise in surprisingly spectacular fashion (with enough strength to take on Star Wars at the box office in December 2017 no less), keep the Spider-Man momentum going with Far From Home, build out their "Spider-Verse" with the Oscar-winning Into the Spider-Verse as well as Tom Hardy's shockingly successful Venom, and weather the pandemic with a steady stream of straight-to-streaming movie sales (all of which have had massive success on Netflix and Amazon) and box office hits; from small but solid performers like Escape Room 2 and Don't Breathe 2 to literally the highest-grossing film of the pandemic, No Way Home. In short, the introduction of Tom Holland as Spider-Man has played a significant role in getting Sony Pictures back on track as a film studio and getting the audience to trust them again. Unsurprisingly, Sony definitely wants to stay in business with Holland. However, the more successful he is as Spider-Man, the harder that will be.
Now, while Holland's films outside of Marvel have not exactly performed all that well at the box office (Chaos Walking was admittedly an earlier pandemic release, but it was much deader than it should have been on arrival), the web-slinging actor as truly established himself as a name talent and thus is constantly getting courted by other studios and producers. He's already done high-profile projects for Netflix (Devil All the Time) and AppleTV+ (Cherry), both of whom have seemingly bottomless pits of cash at their disposal with which to pay talent handsomely, and one of which (Apple) that has already snapped him up for another project. The fact is that if Sony wants to keep Holland with them for the long run, they need to not only pay him well but also supply him with a solid stream of big-ticket projects in exchange for him to keep printing them money with his Spider-Man movies. They are already setting up a Fred Astaire biopic for him to star in, and I firmly believe that giving him the starring role in Uncharted is another big-ticket item meant to keep him in-house. For evidence, just look at how fast this decade-in-development project got before cameras once Holland was officially signed on.
So here we are, with the film officially playing in theaters this weekend, hoping both to capitalize on the already potent momentum of No Way Home and that audiences who've already seen that superhero flick eight times over will swing on over to watch Holland in a new, globe-trotting, action-adventure. Not a bad plan. I won't go into too much detail but the film but it stars Holland as franchise protagonist Nathan Drake (a notably younger version of the character, much to the chagrin of fans of the game) going on a treasure hunting adventure with Wahlberg's Victor "Sully" Sullivan in the hopes of living up to his brother's legacy, all while trying to outmaneuver rogue treasure hunters led by Antonio Banderas and Tati Gabrielle. So far, it's following a pretty standard pattern for video game film adaptations, that being that the reviews are mixed at best. Many are criticizing the casting and labeling the story as bland and too highly derivative of a James Bond film (though No Time to Die was quite successful so I don't see what's wrong with that) and it was tracking to debut with around $25-27 million in the 3-Day frame and about $30 million in the 4-Day (though some said it could overperform with $40 million total).
To give credit where credit is due, video game movies and TV shows have actually been doing relatively well as of late, a reversal of fortune for a type of film that has been the butt of many jokes for quite a long time. While not explicitly based on any real-life video games, the Jumanji franchise has been successfully rebooted as a riff on video game mechanics while Free Guy anchored a surprisingly endearing love story inside of a playful spoof for popular online games like Fortnite. Meanwhile, movies and TV shows based on actual video games have also been doing better than ever, with Sonic the Hedgehog being a bona fide hit in 2019 (with a sequel set to release this year and a threequel already greenlit) while League of Legends origin series Arcane was a breakout hit on Netflix and even a relatively smaller film adaptation of the Ubisoft game Werewolves Within premiered at the Tribeca Film Festival last year to critical acclaim. In the cases of those three projects, all of them seemed to succeed with audiences on the basis that they specifically leaned into their inherent cartoonishness and general game mythology, appealing to their core fanbases while also unabashedly being themselves in a way that was inviting to newcomers. Fascinatingly, based on reviews, Uncharted hasn't really taken that route, instead opting for the old-school method of taking a property or brand and shaping it around a movie star. That said, clearly, something is working because Uncharted actually looks to be overperforming.
We had to know something was going right as Uncharted, despite reviews and a general ho-hum attitude toward its release, ended up posting really strong business on Thursday night with $3.7 million. That's above the Thursday night preview gross of Sonic, which came in with $3 million, and right on par with 2017's Kong: Skull Island. The latter film opened with $61 million and while it's doubtful that Uncharted will see that kind of number, such a high gross suggested more strength at the box office than expected; an idea further reinforced by solid business overseas as Uncharted ended up opening last weekend in international markets and bringing in $22 million. Sure enough, Uncharted posted a Friday gross this morning of $15 million, quite strong and arguably pre-pandemic level for a movie like this. Given that most films tend to take in around 40% of their opening weekend gross on a Friday, this number would suggest a debut in the high $30 millions or even that of $40 million in the 3-Day frame, which would be great. Of course, factoring in the extra day off through President's Day, that number is bound to go higher in the 4-Day. We'll have to see by the end of the weekend, but I do think a 4-Day total of $45 million is not at all out of the question. That would be a gigantic win for Sony (essentially launching the first blockbuster of the year) as well as give Tom Holland a rare win outside of Marvel and, coinciding with the continued strong pace of No Way Home, branding him a "butts-in-seats" movie star. We'll see how everything shakes out by the end of the weekend, but for now, expect Uncharted to place first.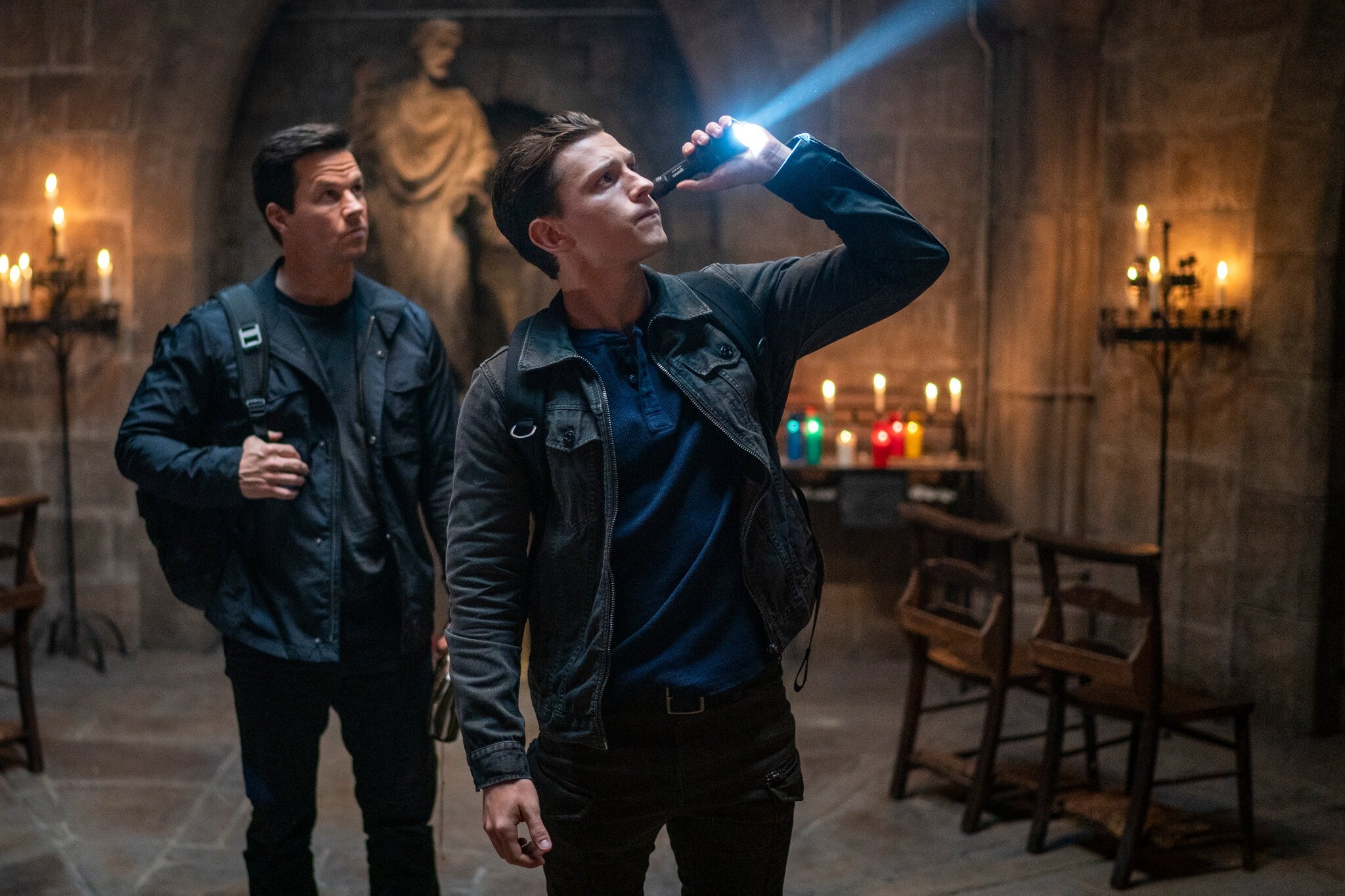 With regard to our other "big"-ish new release this weekend, Channing Tatum himself is getting something of a win with another surprise overperformance in Dog. This curtly named film is just one in a longer-than-expected line of somewhat serious films revolving around dogs to pop up in the past few years. We've, of course, had two solidly-appreciated entries in the A Dog's Purpose franchise (arguably the most mainstream of this kind of movie), with the titular A Dog's Purpose in 2017 (a $205 million grossing film worldwide) and its sequel A Dog's Journey (a $75 million grosser), but we've also had several other entries in this interesting genre over the last decade, ranging from Max in 2015 ($42 million), to the Kate Mara-starring Megan Leavey in 2017 ($14 million), and even what was supposed to be a potential Oscar contender in 2019's The Art of Racing in the Rain ($30 million worldwide and no, it was not an Oscar contender). As you can probably tell from all of these films' grosses, the "some-degree-of-serious film featuring a dog as a primary character" is a pretty inconsistently successful genre of film. At its best, when it aims its appeal primarily at families, it can reach some pretty notable highs at the box office, though there are significantly diminishing returns when it comes to sequels. At its worst, usually when the film gets a bit too serious and clashes aggressively with the "cute" scenes involving owners talking to their dogs, these kinds of movies don't tend to make much of a dent at the box office at all.
With regard to Dog, which stars Channing Tatum as a US Army ranger who forms a friendship with an aggressive but sweet military working dog named Lulu as the pair travels to Lulu's handler's funeral, this MGM release has seemed a bit tonally confused from the start. Upon the announcement that MGM had picked up the package for financing and distribution, the press release made it sound like the film (which is Channing Tatum's directorial debut, good for him!) would be something more of a serious military drama. The trailers and posters, on the other hand, have played up the comedic elements significantly which, to be fair, is good as Tatum's strengths as an actor do lie in comedy (hence why The Lost City looks like so much fun). Clearly, however, Tatum and co-director Reid Carolin have managed to strike just the right tonal balance, a necessary ingredient for these films as I mentioned above, as the film has unusually strong reviews for its breed. Critics praise the film's rock-solid narrative construction which allows for the humanity of the piece to really shine through. That's really wonderful and clearly working for the film's box office prospects as, just like with Uncharted, it looks to be overperforming.
To this day, I continue to underestimate the power that dogs have on human beings; able to bend them completely to their will with a single wag of a tale and making their owners melt into puddles of crazed joy just by tilting their heads. Clearly, with a well-constructed movie that doesn't get in the way of its own sweetness, Lulu (or whatever the name of the dog that is playing her is) is proving to be quite the movie star with a $5 million Friday gross (coming off a much higher than expected $1.7 million Thursday night preview). That would suggest a nearly $13 million opening for the film (way more than the original, at best $8 million I was expecting), a gross that will likely grow to at least $15 million by the end of President's Day. In other words, this little "boy and his dog" movie is going to likely outgross the entire 12-week run of MGM's three-time Oscar nominee Licorice Pizza in a single weekend. As with Uncharted, that bodes well for both the studio and the star as the embattled MGM gets a solid win for the weekend while Channing Tatum gets a nice boost before his next project, Paramount's The Lost City with Sandra Bullock, hits theaters. Given its strength, I'm expecting the film to solidly post as number two at the box office.
Now as for the rest of the top ten, which primarily holdovers, prior to the start of the weekend, I'd had my own predictions as to the way the chips were gonna fall in terms of the order of the box office ten. However, given that it was a 4-Day weekend, I felt more inclined to let Friday night play out and see just how everything is going this time around. Unsurprisingly, perhaps given Tom Holland really ruling the box office this weekend, No Way Home is continuing to perform very well, even better than I would've expected. While I would have guessed that the Spider-Man movie might have seen a bit of a steeper loss this weekend as Sony shifted its distribution resources towards Uncharted, apparently nothing can keep audiences away as the film is reportedly likely to pull in around $7 million in the 3-Day frame and $9 million in the 4-Day. That would put it in third place, ahead of what I originally thought would take that spot, Death on the Nile. The delayed release from Disney/Fox premiered last weekend and was swallowed almost whole by Super Bowl Sunday, failing to recoup all that much with a Valentine's Day boost. Now, to be fair, my original prediction that the film would, given overall solid reviews and its status as just a fun, lavish murder mystery, hold well in its second weekend is slightly coming true as its currently looking to hold, based on its Friday gross, around 50% for a gross of about $6.5 million in the 3-Day and $7.6 million in the 4-Day. However, with No Way Home taking its third place spot, and Tom Holland overall grid-locking the top three spots. It seems that Death on the Nile's chances of legging out are getting slimmer by the second. It will likely be placing fourth this weekend.
Rounding out the top five, Jackass Forever might be getting a reprieve from its very large drop last weekend with a potentially 35% drop this weekend, making for a gross of $5.2 million in the 3-Day and a huge $6.1 million in the 4-Day frame. That would be fantastic for the film as it would show that the franchise's big return last weekend was not a flash in the pan. That said, I'm admittedly having some trouble believing that it's going to hold that well. I could obviously be very wrong as the Super Bowl has a lot to do with last weekend's depressed grosses, but I personally can't fight the feeling that Marry Me might see something of a resurgence. Currently, the JLo rom-com is looking at a projected 54% drop for a gross of $3.6 million in the 3-Day and $4.2 million in the 4-Day, but given the positive word-of-mouth for it, I would think we'd be seeing a drop of around 45% instead. That would see the movie grossing around $4.3 million at least, which would put it neck-and-neck with Jackass Forever should that film fall closer to 45% or 50% for a gross between $4-4.4 million in the 3-Day. We'll see just how it shakes out but I would keep an eye on both of them by the end of the 4-Day frame.
Meanwhile, the rest of the top ten is falling relatively in line with what I would've thought, though with much higher grosses (great!). Sing 2 is reliably taking the best hold of the top ten with a projected 1% drop for a gross of $3 million. I personally would've pegged it at closer to $2.5 million, but most schools are off on Monday, so even more droves of kids are rushing to theaters. No matter what, Sing 2 always wins. Expect it in seventh place with a potential 4-Day gross of $4.1 million. Meanwhile, Scream is also outperforming my $1.77 million expectations with a projected hold of 37% for a gross of roughly $2 million in the 3-Day and $2.4 million in the 4-Day. That would take it past the $75 million that the film was originally expected to top out with domestic, a major accomplishment for the franchise's revival and a testament to Paramount's positioning of the film as a January release as it has simply ridden from strength to strength to strength. If it can end its run with $80 million domestic, now a definite possibility, it will have become the leggiest Scream movie since Scream 3. For now, expect it in eighth place.
Finishing out the top ten will likely be Blacklight in ninth and newbie The Cursed in tenth. Blacklight's opening was perfectly average for Liam Neeson movie as of late and its second weekend drop is looking to continue that trend with about $1.8 million, a roughly 45% drop. That's a solid hold for any movie but nothing to write home about as the movie opened so low. Its 4-Day gross is projected to be about $2 million but, as I mentioned last week, Blacklight's real strength will be in the ancillary market. Finally, we have our last new release this weekend, LD Entertainment's The Cursed, which I can swear only started advertising this week. Starring Narcos and Logan fan-favorite Boyd Holbrook as well as Yellowstone star Kelly Reilly, The Cursed, a werewolf movie taking place in the late 1800s, actually looks like a ton of fun and has decent reviews. However, like I said, LD Entertainment only seems to have started the film's ad cycle this past week. Reportedly, the film premiered at the Sundance Film Festival this past January, which probably would've given it more clout had the festival not been an online event again this year. In any case, I was expecting it to come in with around $1.5 million, given that horror always has an audience, and it looks like I'm not that far off as it's projected to take in $1.6 million in the 3-Day and $1.8 million in the 4-Day frame. As I said above, at least the top ten grosses this weekend will all be over $1 million! As for the specialty market, I'll cover it when the weekend is over. Until then, enjoy your long weekend!