Meanwhile, Top Gun: Maverick continues to soar and poses the biggest challenge to Dominion (aside from critics) in the domestic market!
Jurassic World: Dominion, more than likely, will be a hit no matter what. Opting for the same release strategy as Fallen Kingdom, Universal opened the film internationally first and, frankly, Dominion has been cleaning up. Opening the same weekend as Top Gun but predominately in Latin America, the film has been delivering record openings for the franchise in a variety of international territories. It totaled $56 million for its international opening which was +1% ahead of both of the franchise's last two installments, which tells me that the appetite for the new Jurassic film is quite big. While reviews aren't great, they haven't really been since The Lost World: Jurassic Park (though the first Jurassic World has solid notices overall) and that hasn't stopped the previous two entries from being billion-dollar grossers. At the end of the day, the promise of a major blockbuster dino-adventure is pretty hard for audiences to pass up.
Top Gun: Maverick has been the focus of the box office discussion so intensely for the past two weeks that I had honestly forgotten that Dominion was even coming out this weekend. To be fair, I've never been the biggest Jurassic Park fan, having only seen the original film fully for the first time about three years ago (its really well made and has that "Spielberg-ian" sense of wonder, anticipation, and intensity, as well as level patience in its storytelling and directing that you really don't see in movies anymore). Prior to that my only experience with the franchise had been catching glimpses of Jurassic Park 3 on TV and seeing Jurassic World in theater as my first full exposure to the franchise. Perhaps my lack of familiarity with the original film is what has resulted in me really enjoying the last two entries, but I am clearly in the minority when it comes to critics as the franchise has been pretty thoroughly disparaged for years now. Jurassic World's reviews were lukewarm and many felt that it coasted on the novelty of actually seeing the park in action and the franchise's return to the big screen while, Fallen Kingdom, one of the first movies I ever covered on this blog, was torn apart by critics who found it illogical and haphazardly constructed in its tone and story. Clearly, though, the audience doesn't seem to mind as they've shown up in droves for these movies. Based on that aforementioned novelty, Jurassic World managed one of the biggest opening weekend grosses of all time, both domestically ($208 million) and worldwide ($524 million; the first film to gross over $500 million worldwide in a single weekend), and went on to become the eighth highest grossing film ever at the domestic box office ($652 million) as well as the seventh highest grossing film worldwide ($1.67 billion). Fallen Kingdom did take a dip in its critical reception (I personally thought it was fun and unique with its multiple locations and story developments and that served up some great visuals courtesy of director J. A. Bayona, even if specific elements of the story landed with a thud) and its box office haul, but still managed to pull in $1.3 billion worldwide, proving that the intrigue with this franchise is pretty teflon. As a result, whether or not I can remember it, Jurassic World: Dominion is set to be a splashy event.
As to how well the film is liable to do this weekend, there are a number of factors it has going for it and against it. As mentioned above, Universal mimicked their movies with Fallen Kingdom and released the film internationally to build momentum, which it's doing. It was a smart move on their part as Dominion's release cycle started off with a lot of "sexy" headlines about how well it's been doing, how many international records it's breaking, and how big it looks to break this weekend when in finally debuts worldwide (pundits are estimating a total of approximately $325 million by Sunday). It's a slingshot effect, designed to make the film seem like an "event" that's unmissable and pull the rest of the world in for the ride; an effect that is somewhat necessary as critics are not too hot on this installment. Sure, Jurassic films haven't been critical darlings for a while, but Dominion genuine looks to have the worst reviews in of the entire series with a 32% on Rotten Tomatoes (4.9/10 average score) and a 37 on Metacritic. Reviewers have stated that the film is the most absurd of the franchise yet, not helped by a bifurcated storyline that further instills the proceeds with a feeling of disjointedness and makes the plot feel less like a real story and more like the characters are simply moving from plot point to plot point solely for the sake of having an action set-piece. Dominion has, in all fairness, been commended for bringing back the original cast in a sizable capacity, with Sam Neill, Laura Dern, and, particularly, Jeff Goldblum all receiving praise for the work. Praise has also gone to new cast additions like that of Mamoudou Athie and DeWanda Wise, whom critics have specifically praised, not just for her strong performance and charisma, but also because of the representational aspects of her inclusion in the film. However, the inclusion of all these characters, on top of Chris Pratt and Bryce Dallas Howard as the main protagonists from previous films in this trilogy (both of whom have been labeled as bland by critics from the start, with Pratt, in particular, having lost a lot of favor with the media in the years since thanks to a frankly odd obsession with his personal life and values, but I digress), has also been a sticking point for reviewers who find that the cast is much much too big, so much so that even a nearly two and a half hour running time seems to leave little room for all the character to be fleshed out. Overall, critics seem to find the film overstuffed, and underdone, so the film is facing something of an uphill battle in that regard.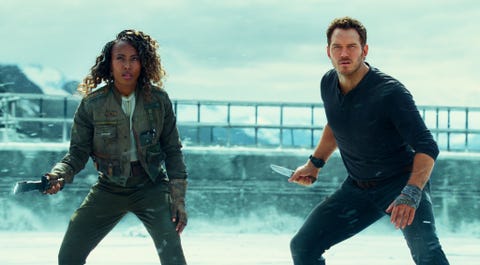 I said early that audiences still seem to love these movies and come out in droves to see them, but the reviews here do give me a bit of pause as I wonder what the word of mouth will be. Universal has essentially constructed this film, with such a large cast and the return of older fan-favorites, to be Avengers-style Jurassic Park movie, which is smart in theory. However, if they indeed have gone a bit too big, and maybe potentially jumped the shark, that could push audiences away. Best case scenario though (and I feel this is the likely scenario), is that the film opens big largely on curiosity from the franchise's fans. Pundits have pegged the film as opening somewhere between $120-150+ million. The first film in the trilogy opened ot a record $208 million while Fallen Kingdom leveled out closer to $148 million, and give the laws of diminishing returns and how most franchises with mixed reception tend to perform (gradually appealing more to a smaller but more passionate fanbase with every installment), I was personally expecting the film to open around $135 million, a perfectly solid opening that would pave the way for a healthy run. Indeed, a healthy run looks to be in the film's future, though with a Thursday night preview gross of $18 million, I might need ot pull my estimates up a bit. $18 million is a very healthy preview gross for the film given that it is very close to the original Jurassic World's $18.5 million preview gross from 2015. Of course, Dominion isn't getting anywhere near that, but I would be willing to suspect that if the film delivers for audiences on the spectacle, that maybe Dominion can rake in around $140 million. My gut says that's a stretch and that I should keep to my $135 million estimate, but fortune favors the bold so I will overestimate on this go around.
As for the rest of the top ten, Top Gun: Maverick will obviously be taking second place, all though its hard to put my finger on what gross it's looking at. The film held so well in its second weekend (the best second weekend hold of all time for a film having opened to over $100 million) that it's nearly impossible to track without full on box office prognostication software, and I don't have the money for that. Having already passed $600 million worldwide with a distinct shot at a potential billion dollar gross, Maverick has all the makings of a larger scale Everything, Everywhere, All at Once. That film is still kicking quite a lot of booty 12 weekends into its respective run, and given that Top Gun seems to have similarly lit a fire that no moviegoer can look away from, its reasonable to expect another miraculous hold for the fighter pilot drama in spite of Jurassic World: Dominion swooping in to steals its IMAX screens. I'll go with a -35% drop for a gross of $58.5 million. It can't possible drop lower than -45% so, once again, I'll be bold.
Third place, meanwhile, is bound to go to Doctor Strange in the Multiverse of Madness as it likely falls around -50% (accounting for Dominion entering the fray) for a gross of $4.58 million. The Bob's Burgers Movie and The Bad Guys each prove to be odd cases as they should each ostensibly be hit hard by Dominion's arrival in the market place given that film's all-ages appeal. Still, both films seem just niche enough to avoid the hit. Bob's Burgers is bound to drop relatively hard anyway given its status as an animated event film, but its more American presentation and strong core fanbase suggest to me that a strong-under-the-circumstances hold of -55% is in order (in line with The Simpsons Movie) as opposed to a drop in the 70th percentile like most anime movies. On the other hand, The Bad Guys should still skew young enough to capture the audience that still can't watch Dominion given their age, so another drop around -25% is in order. That would see The Bad Guys take fourth place with $2.5 million and Bob's Burgers take fifth with $2.08 million.
In the bottom half of the top ten, expect Downton Abbey: A New Age to continue to follow in its predecessors footsteps with a -45% drop and a gross of $1.76 million in sixth. Everything, Everywhere, All at Once should continue to hold rocksteady with about a -25% and a gross of $1.51 million while Sonic 2 is likely to drop by -40% and gross $1.02 million in seventh and eighth place respectively. The Losty City will be something of a wild card because while it should have a strong hold as tis had for almost its entire run, it is loosing quite a few theaters this weekend, likely to dip beneath 1,000. This would deal a damaging blow, but even the presence of big blockbusters has yet to knock the Sandra Bullock from its pedestal. We'll see what happens, but for now, I'll predict -45% for a gross of $748K in ninth place..
Tenth place will be interesting to watch as it will be bluring the line between specialty and mainstream offerings. Last weekend, an Indian film, Vikram, appeared in the top ten with $1.77 million. Logic dictates that the film is likely to see a -70% drop, which would result a gross around $531K and allow the film to take tenth place. However, NEON has Crimes of the Future out now, and while I don't believe the film is going to do wildly big business this weekend, I do suspect it will put up a fight. Given its status as a NEON film and its wide release (especially for a NEON film), the comparison I'm leaning towards is with Spencer (which, coincidentally, also starred Kristen Stewart). After going fully wide in its second weekend and grossing around $1.5 million, relatively close to Crimes fo the Future's $1.1 million opening, Spencer dropped by -58%. Because of this, and given that Crimes of the Future is a Cronenberg feature and thereby has a certain level of brand recognition, I'm predicting somewhere around a -55% drop, which would leave Crimes with about $500K and put it within striking distance of Vikram for tenth place. Who will make it in the end and who will be booted? We'll just have to wait and see. Otherwise, keep a look out in the specialty market for an expansion for The Phantom of the Open as well as the continued re-release fo RRR back into theaters. Reportedly, that film has been doing shockingly strong business in its re-release and so exhibitors are pushing it hard to get it back into the mainstream. That's unsurprising given how well it did back in March and now that its popularity has grown even more thanks to its release on Netflix, where it's been a top ten film for the past two weeks, deservedly so. The more people who see it, the better!